Meet Dr. Harvey's Dog Food. Dr. Harvey's is a rare breed of natural food that's been around since the 1980s. It all started when an eccentric doctor looked at what pet owners were forced to feed their pets food that only benefited the manufacturer's bottom line. Dr. Harvey created a range of foods that used holistic ingredients to become what true Dr. Harvey fans know as "the miracle food."
Now, 30 years later, the brand still has a loyal following and creates freeze dried foods and premixes for those who want a more comfortable foundation for a raw food diet. If you've been looking to take the step into raw foods, this could be your answer. Let's break it all down.
Brand Quick Look
Parent Company: Dr. Harvey's
Founded in: 1980s
Made in: New Jersey, USA
Available at:  Chewy, Amazon, drharveys.com
Types of Food: Freeze-dried raw food and premixes
Real Meat in First 5 Ingredients? : Yes
Recalled in Past? : No
Behind the Brand
It was odd in the 1980s to claim that even pets should be fed organic, holistic diets because there was so much on the market that went against that advice. Dr. Harvey was appalled by the ingredients found in almost all commercially available dog foods at the time and began to experiment with his own recipes that could help conquer the issues so frequent in dog digestion and allergies.
The result was his raw formula. Over the past 30 years, the recipes have undergone changes, but the underlying principle remains the same. Dogs need whole ingredients with no cheap fillers such as corn or soy and no artificial ingredients.
The foods are suitable for all life stages and include both complete formulas and premixes that can be mixed with a protein source for more customizability. It's a holistic brand that began before holistic was popular and builds on Dr. Harvey's knowledge and experience to create foods that can finally conquer allergies and digestion problems.
Dr. Harvey's Dog Food Review
Dr. Harvey's Oracle Freeze Dried Beef
Rating: 4.5 out of 5 stars
First Five Ingredients:
Beef
Sweet Potatoes
Carrots
Potatoes
Flax Seed
Dr. Harvey's beef formula is a holistic option for those who'd like to feed their dogs a quality, raw food, but don't have the time or the willpower to create their own meals from scratch. It features whole meat protein with essential oils for all-day energy and muscle tone. It also uses fruits and veggies to provide critical vitamins and minerals for your dog's overall health and well being.
Freeze-dried foods preserve all the flavors and nutrients of a raw based diet, but the meals are shelf stable and don't need to be refrigerated until the food is reconstituted. It's on the expensive side but investing in a quality dog food could help you save money in the long run if you frequently have to buy supplements for skin or digestion issues or if you visit the vet constantly for those same issues.
It's a convenient alternative to raw diets that allow you to feed your dog balanced nutrition with no fillers, preservatives, or artificial ingredients. Many dogs have trouble digesting those and removing them could be the best thing to do. The formulas build health and well being from the very beginning and offer dogs the chance to clean up digestion and skin irritations from allergies.
Some dogs experience more gas than usual when first introduced to this style of food so it could be beneficial to transition them slowly to the new diet. Feed a little more at each meal time until all you're feeding is Dr. Harvey's. For many dogs, transitioning slowly allows their digestion to reset, and you could see easier digestion.
What types of dog food does Dr. Harvey's offer?
Freeze dried raw foods are an excellent way to get the benefits of natural foods without the hassle of storage or mixing. Owners who can't feed fully raw can use this food to obtain the same type of benefit but with easier storage and serving options. They're also great for sitters who may not be used to feeding dogs an entirely raw diet.
The premixes are also great for those who want to customize their meat options or who have picky dogs that only like a particular taste or texture. These formulas allow owners to rest easy knowing they're giving dogs a balanced meal that leaves nothing out while still providing fresh meats vital to their dog's systems.
The foods don't have a lot of recipe options, and you may want to talk to your vet about using the food or premix with puppies. However, they're all formulated to be suitable for all life stages and breed sizes and consider the unique dental needs of small breed dogs.
Premix Recipes:
Canine Health
Veg-to-Bowl
Veg-to-Bowl Fine Ground
Oracle Dog Food Recipes: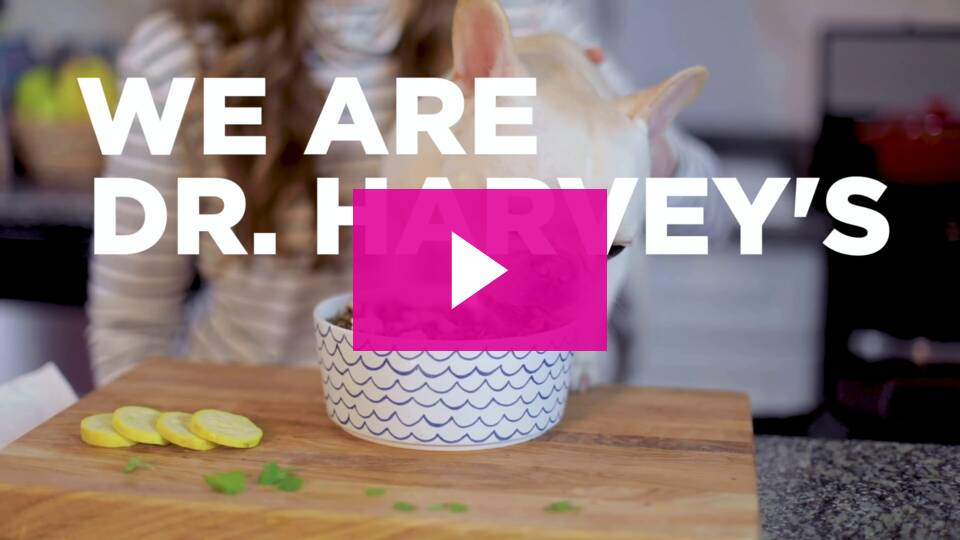 Dr. Harvey's Recall History List:
Dr. Harvey's has never issued a recall. They are very involved with their food processes, and in over 30 years of business, they've never had an issue that required pulling any of their foods off the shelves. Considering how long they've been in business, this is an exceptional record.
Best Dr. Harvey's Dog Food Recipes
The dog foods are the best options because they offer complete proteins, but we do think you may want to try one of the premixes at some point. Let's take a look at a few of the best recipes you can start with.
Oracle Chicken Recipe
The first complete freeze-dried recipe is a chicken-based protein with low glycemic carbs such as sweet potato for energy. It uses whole fruits and veggies for critical vitamins and minerals and offers healthy sources of fats so vital to your dog's all-day energy. It's only wholesome ingredients with no fillers and could help settle your dog's digestion. It's also great for those dogs who have trouble with their weight.
Oracle Beef Recipe
The beef option uses whole beef as the primary source of protein but features the same fruit and veggie offerings for vitamins and minerals. It's a good source of protein and fats and helps give your dog all day energy without feeling hungry. It's good for those dogs who have sensitivities to poultry or need a fattier source of protein (working or sporting dogs).
Canine Health Pre-Mix
This is the original premix recipe. It contains a holistic balance of six grains and nine vegetables in a dehydrated blend that takes quite a few steps out of making homemade foods. You only need to add a protein and a healthy oil to round out the recipe, allowing you to customize the meat and oil. It could be a great way to get picky dogs to eat because you can add all their favorite oils or proteins.
Customer Reviews
Dr. Harvey's foods have some die-hard followers because they were the only option for a holistic diet for a long time. Although many other options have popped up over the years, most Dr. Harvey's fans remain so even after trying different foods. People love that they can purchase whole meals or premixes that allow them to customize.
Dr. Harvey's is highly rated across quite a few online platforms that sell dog foods. The recipes and premixes regularly rate four and a half out of five stars and the food is also highly reviewed with several very reliable and trusted online reviewers.
What Customers Like and Dislike about Dr. Harvey's?
People love that the premixes allow them full customization of their dogs' meals and that the freeze-dried foods are so easy to use. They love the convenience of feeding their dogs a raw based diet without all the hassle and storage of entirely raw.
Those who like to make their own foods but worry they aren't getting the right balance of nutrients also like the assurance that all the complicated steps are taken care of with the premixes. It takes the guesswork out of cooking foods for pets but still allows fresh proteins and oils.
It's on the expensive side so those on a strict budget may have a difficult time justifying the cost, especially if there's more than one dog in the house or a large breed dog. However, you could save money in the long run by not having to visit the vet for digestive or immune response issues.
Positive
"Thank you dr. Harvey. My puppies love it, and it's what they're supposed to have. Best part being I don't have to fuss with it." Carol, chewy.com
Negative
"what a waste of good money, my four dogs would not touch this stuff and i prepared it right to the instructions, afraid to even bother cooking up the other packages, my dog judy is not fussy about food, she will eat most anything but she would not go near it after i cooked it,, not a good buy" Shirleyjh, chewy.com
Is Dr Harvey a vet?
No, Dr. Harvey is not a veterinarian. Dr. Harvey has been helping to educate pet parents for over 30 years. As always, there is no fee for his time and expertise. He may educate you about feeding guidelines and about vitamin and herbal supplements. However, he does not prescribe products or treatments for medical conditions. The educational information Dr. Harvey provides is not a substitute for, nor does it replace, professional medical advice, diagnosis, or treatment. Always consult your veterinarian before starting any new treatment approaches and to determine if it is right for your companion animal.
Is Dr Harvey's dog food safe?
Harvey's Dog Food uses safe and all-natural ingredients in its products. The foods that have been prepared to be the ultimate healthy diet for dogs, uses human grade, high quality materials in the preparation process. The dog foods, chews and treats are all chemical free.
Is Dr. Harvey's made in US?
Yes. All of their products are made in their own facility in New Jersey and the ingredients are sourced exclusively in the US.
Does Dr. Harvey handle returns?
Dr. Harvey's has a complete money-back guarantee on all of our products. If for any reason a customer returns a product or if you are unhappy with a product, they will take the product back. The product must be returned to us, even if opened for a credit or replacement product. They will replace products for up to 60 days from date of sale.